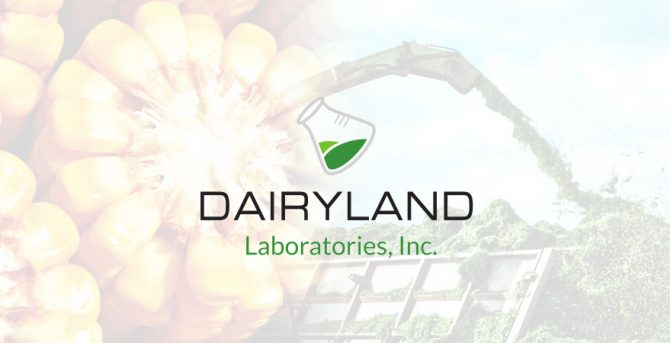 Remote NIRS technique: Dairyland Lab Inc. (USA)
The Laboratorio Analisi Zootecniche began its collaboration with Dairyland Laboratories Inc Arcadia – WI (USA) in January 2017; through a process of equipment standardisation we have been able to align our equipment with that of Dairyland: as a result we are now able to work with new parameters present in American calibrations (especially CNCPS dynamic rationing).
The zootechnical foods are processed at our headquarters and the multi-spectral scans are taken using our equipment. The NIR multi-spectral scans are then sent to Dairyland. Using their equations, they then rework the data in the same day.
The most important parameters are the digestibility of the NDF (NDFD) and the undigested NDF (uNDF) in forage crops at various times, as well as the digestibility of the starch (IVSD, 7h: In Vitro Starch Digestion at 7 hours) in corn. All of which is incorporated in the Cornell Net Carbohydrate and Protein System (CNCPS).
For the full set of services offered by the Dairyland laboratory:
» www.dairylandlabs.net/feed-and-forage/analytical-packages-and-pricing/nir-analysis
Remote NIR parameter testing at Dairyland (USA)
Corn silage / fresh chopped forage
Mixed ensilage / fresh chopped forage
Hay
Unifeed
Corn

Crude Protein – CP

Crude Protein – CP

Crude Protein – CP

Crude Protein – CP

Crude Protein – CP

Acid Detergent Insolub. CP
– ADICP
Acid Detergent Insolub. CP
– ADICP
Acid Detergent Insolub. CP
– ADICP
Acid Detergent Insolub. CP
– ADICP
Acid Detergent Insolub. CP
– ADICP
Neutral Detergent Insol. CP
– w/Na2SO4
Neutral Detergent Insol. CP
– w/Na2SO4
Neutral Detergent Insol. CP
– w/Na2SO4
Neutral Detergent Insol. CP
-w /Na2SO4

Protein Solubility

Protein Solubility

Protein Solubility

Protein Solubility

Protein Solubility

Ammonia-CP%

Ammonia-CP%

Ammonia_ppm

Ammonia_ppm

ADF

ADF

ADF

ADF

ADF

aNDF

aNDF

aNDF

aNDF

aNDF

aNDFom

aNDFom

aNDFom

aNDFom

Lignin (ADL)

Lignin (ADL)

Lignin (ADL)

Lignin (ADL)

NDF Digestibility
30 h
NDF Digestibility
30 h
NDF Digestibility
30 h
NDF Digestibility
120 h
NDF Digestibility
120 h
NDF Digestibility
120 h
NDF Digestibility
240 h
NDF Digestibility
240 h
NDF Digestibility
240 h
NDF Digestibility
240 h
Undigested NDF
30 h
Undigested NDF
30 h
Undigested NDF
30 h
Undigested
NDF 120 h
Undigested
NDF 120 h
Undigested
NDF 120 h
Undigested NDF
240 h
Undigested NDF
240 h
Undigested NDF
240 h
Undigested NDF
240 h

Starch

Starch

Starch

Starch

In Vitro Starch Digestibility – IVSD 7 h

In Vitro Starch Digestibility – IVSD 7 h

Starch MIR kd P1T1

Starch MIR kd P1T1

Fat (ethereal extract)

Fat (ethereal extract)

Fat (ethereal extract)

Fat (ethereal extract)

Fat (ethereal extract)

Ash

Ash

Ash

Ash

Ash

Ethanol-solub. Carbohydrates – ESC

Ethanol-solub. Carbohydrates – ESC

Ethanol-solub. Carbohydrates – ESC

Ethanol-solub. Carbohydrates – ESC

Ethanol-solub. Carbohydrates – ESC

Water-soluble carbohydrates (WSC)

Water-soluble carbohydrates (WSC)

Water-soluble carbohydrates (WSC)

Water-soluble carbohydrates (WSC)

Water-soluble carbohydrates (WSC)

Lactic Acid

Lactic Acid

Acetic Acid

Acetic Acid

Propionic Acid

Propionic Acid

Butyric Acid

pH

pH

pH

Adjusted Crude Protein

Adjusted Crude Protein

Adjusted Crude Protein

Adjusted Crude Protein

NFC

NFC

NFC

NFC

NFC

Relative Feed Value (RFV)

Relative Feed Value (RFV)

Relative Forage Quality (RFQ)

Relative Forage Quality (RFQ)

TDN OARDC

TDN OARDC

TDN OARDC

TDN OARDC

TDN OARDC

Nel 3X OARDC

Nel 3X OARDC

Nel 3X OARDC

Nel 3X OARDC

Nel 3X OARDC

Neg OARDC

Neg OARDC

Neg OARDC

Neg OARDC

Neg OARDC

Nem OARDC

Nem OARDC

Nem OARDC

Nem OARDC

Nem OARDC

Milk per TON milk 2006 proc

Milk per TON milk 2013

TDN Milk 2013