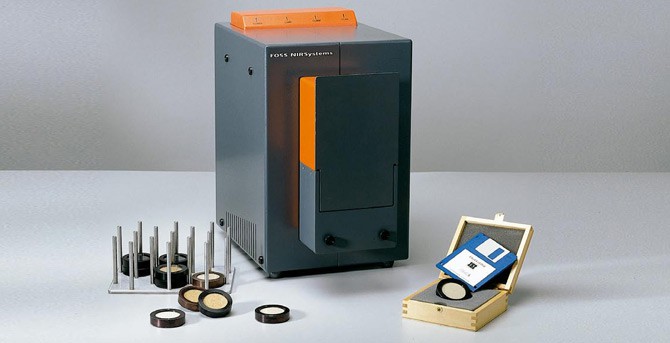 NEAR INFRARED REFLECTANCE SPECTROSCOPY
NIRS (Near Infrared Reflectance Spectroscopy) is a method of testing that utilises certain physical properties of the material, specifically their interaction with near infrared radiation. This interaction provides information on the chemical composition of the sample.
The time required for a single test ranges from a few seconds to a few minutes.
This method allows for rapid testing of numerous samples with a notable reduction in time and cost compared to traditional techniques. This is possible largely thanks to the simplicity of the preparatory stages and the variety of possible tests. The ability to reuse the sample and the lack of use of reagents complete the image for the advantages of this technology.
NIR testing provides excellent correlation with traditional testing – » NIR calibration [.pdf] – , dependent on the "instructions" given to the system: the preparation of samples and plentiful provisions of baseline chemical tests
The Laboratorio Analisi Zootecniche has created calibration/reading curves using the standard chemical testing laboratory and has identified the ideal means of preparing samples, especially for unifeed and silage; the calibration curves are periodically updated depending on agronomic variables [the calibrations are developed using WIN-ISI and UCAL (Unity Scientific) software to guarantee maximum accuracy and robustness].
.
The spectral range is from 1100 to 2498nm. To add to the service of rationing parameters, the laboratory has begun a collaboration with Dairyland (USA) for the digestibility of NDF and starch (see "remote NIRS technique").
A few examples of sample preparation:
PRIMARY PHASE
SECONDARY PHASE
THIRD PHASE
FOURTH PHASE
Unifeed
Grinding with blade cutter
40L
Drying in stove
16 hours
Grinding in mill
0.5mm
NIR scanning
of dry ground products
Silage/corn silage
Grinding with blade cutter
40L
/
/
NIR scanning
of unaltered
ground products
Hay
Grinding with blade cutter
40L
/
Grinding in mill
0.5mm
NIR scanning
of ground products
Alongside this, the laboratory makes use of the highest level of Italian university supervision/consultancy in the field of NIR.
The table below lists the parameters analysed for each food matrix
Nella tabella sottostante sono elencati i parametri analizzati per ciascuna matrice alimentare
The method is not applicable to a complete test of all elements, such as, for example, minerals.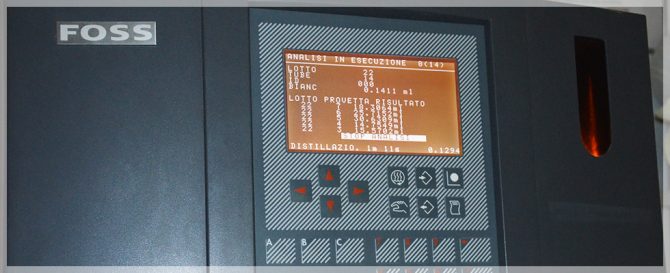 NIR IMAGES

See a range of examples of tests carried out using the
NIR spectroscopy method. | » GO TO GALLERY
Parameters analysed by NIR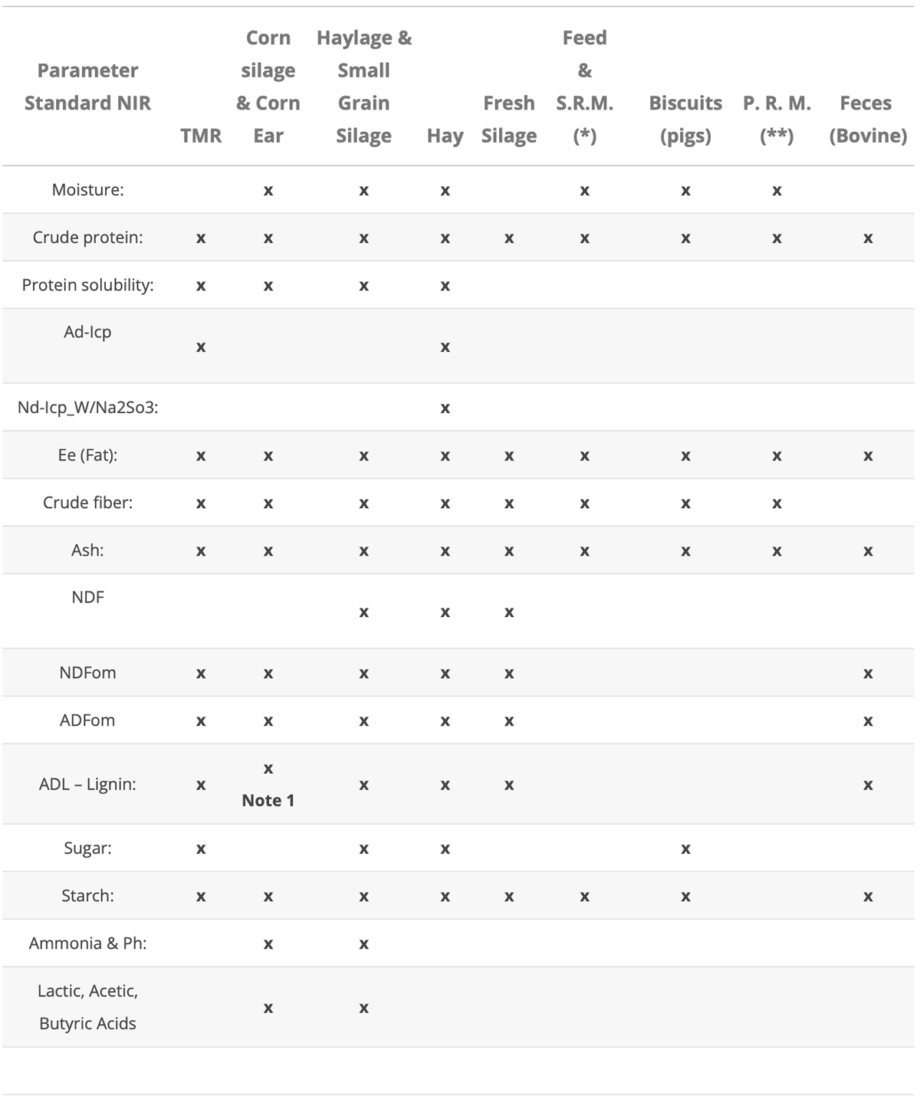 Parameters calculated on some products are provided: NFC; N-amm./N-tot; RFV Note1= Corn Ear excluded

(*) = Feed: Bovine / Pigs;
(*) = S. R. M. (Starchy Raw Materials and by-products):
Corn grain – Distillers – Wheat – Barley – Bran.

(**) = P. R. M. (Protein Raw Materials and by-products):
Rapeseed E.F. and cake – Sunflower E.F. – Soy E.F. – Whole soy and cake.

"E.F." = extraction flour
Remote NIRS technique: NDFD, uNDF and IVSD

The Zootechnical Testing Laboratory began its collaboration with Dairyland Laboratories Inc Arcadia – WI (USA) in January 2017; through a process of equipment standardisation we have been able to align our equipment with that of Dairyland: as a result, we are now able to work with new parameters present in American calibrations. The zootechnical foods are processed at our headquarters and the multi-spectral scans are taken using our equipment. The NIR multi-spectral scans are then sent to Dairyland. Using their equations, they then rework the data in the same day.
The most important parameters are the digestibility of the NDF (NDFDD) and the undigested NDF (uNDF) in forage crops, as well as the digestibility of the starch (IVSD, 7h: In Vitro Starch Digestion at 7 hours) in corn as indicated in the "NIR parameters" table.
» Per un quadro completo del servizio offerto dal laboratorio Dairyland